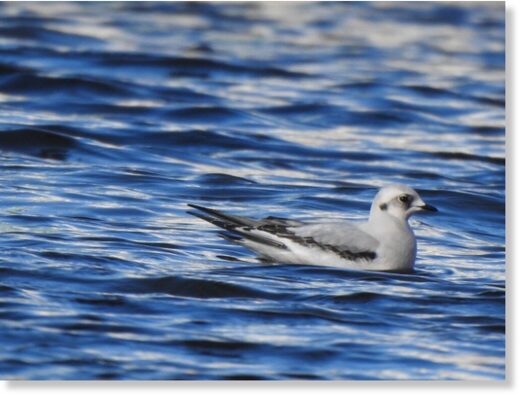 A bird that normally lives its whole life above the Arctic Circle
was spotted this week at Point Douglas, at the confluence of the St. Croix and Mississippi Rivers. The Ross's Gull (
Rhodostethia rosea
) was first observed and identified by birder Ben Douglas on Saturday, Nov. 27. The bird was born just this year somewhere in the far north.
"It had a flight that was dainty and buoyant while it hunted for food under the nearby bridges (car and rail) spending the majority of time in Washington County, MN waters, but did circle in Pierce County, WI and later made brief flights over Dakota County, MN waters as well," Douglas reported on eBird. It took a trained eye to pick the rare bird out of flocks of common gulls it was among.
Over the next few days, hundreds of enthusiasts visited Point Douglas Park, hoping to catch a glimpse. Many were rewarded.
"We watched it catch quite a few small fish (~15) in the evening before heading up the river to roost," reported Steve Kolbe.