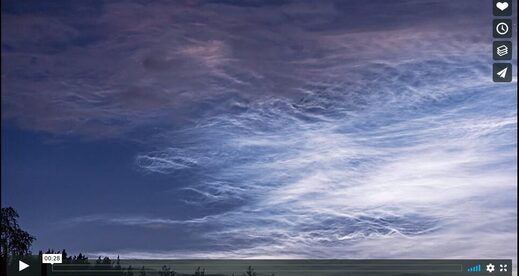 Noctilucent clouds (NLCs) are supposed to be electric blue. This past weekend in Sweden, photographer P-M Hedén saw a different color: Dark Red. "My 17 year-old son was out with friends and he texted me the message 'Noctilucent!' I looked out and didn't really understand
what I saw
. The tops of the clouds were red."
Hedén hopped in his car and drove to a clear site for a better look. The movie he made, above, shows the dynamics of the clouds and
the development of their amber crown. "This all happened around local midnight,"
he says.
NLCs are Earth's highest clouds.
Seeded by meteoroids
, they float at the edge of space 83 km above the ground.
Hedén's video shows ordinary clouds scudding dark and low across the Swedish landscape. NLCs float high overhead, catching the rays of the sun, which is still "up" at their extremely high altitude.