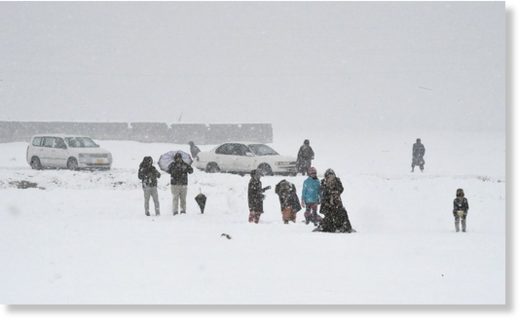 Heavy snowfall and showers claimed at least 14 lives in different parts of Balochistan and suspended road and air links of the country's largest province with rest of the world on Sunday,
as the unusually extreme weather system entered Pakistan.
With a strong westerly wave affecting most parts of the country, snowfall is also expected in Khyber Pakh­tunkhwa, Gilgit-Baltistan and Kashmir, besides heavy showers have been forecast for Islamabad as well as upper and central Punjab from Monday till Tuesday morning, according to the meteorological department.
Met officials said heavy snowfall in Quetta had already broken the 20-year record. "In Qilla Saifullah, the Met Office recorded three- to four-foot snow, which was [more than] double the usual one- to 1.5-foot snow," said Chief Meteo­rologist Dr Azmat Hayat Khan.