CHARLESTON, S.C. - Tropical Storm Cristobal formed off the Southeast coast Saturday, the first storm to threaten the U.S. this hurricane season, forecasters said.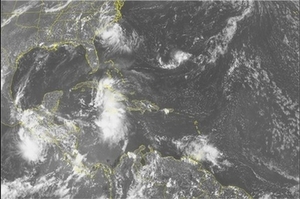 ©AP Photo/Weather Underground
This NOAA satellite image taken Saturday, July 19, 2008 at 2:15 PM EDT shows clouds off the Southeast Coast associated with Tropical Storm Cristobal. The storm is expected to move northeastward along the eastern seaboard with a possible landfall along the Outer Banks of North Carolina late Sunday. It is not expected to reach hurricane strength.
The storm's stregthened from a tropical depression, and promised to bring much-needed rains to the eastern Carolinas before it was predicted to slip out to sea.
At 2 p.m. EDT, the center of the storm was about 100 miles east of Charleston and about 225 miles southeast of Cape Hatteras, N.C.
The National Hurricane Center said Cristobal (pronounced crist-TOE'-ball) was moving northeast at about 7 mph.