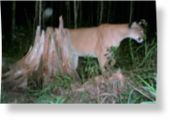 There are definitely a few cougars wandering their way into Minnesota, but most sightings turn out to be false.
Call it a feline frenzy.
Reports of mountain lions in Minnesota keep rolling in.
Just last month several mountain lions, also called cougars, were reported roaming the woods and fields near Elk River. Last fall came the report that a pair of big cats munched a deer shot by hunters in northern Minnesota.
And this winter, via the Internet, came an eye-popping photo of a huge 190-pound cougar reportedly killed in December in southeastern Minnesota.