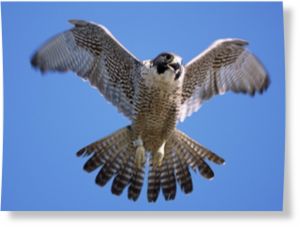 St. Paul - The rare peregrine falcon is making a comeback in Minnesota.
The peregrine, which is the fastest bird in the world, was nearly extinct by the 1960s. But after intense restoration projects in the 1970s and 80s, Minnesota now has more than 50 peregrine pairs that raised 93 young last year.
Lori Naumann of the Minnesota DNR calls it a "great success story." It was removed from the U.S. endangered species list in 1999, and Naumann says it could come off Minnesota's threatened species list in the next few years.