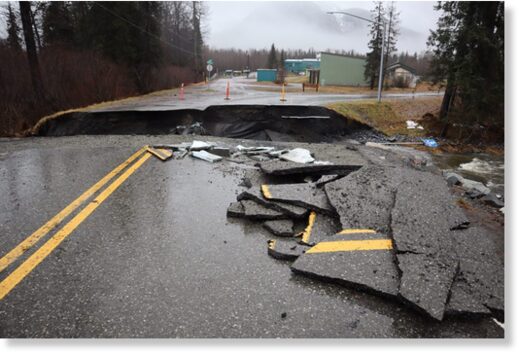 A powerful, historic storm has walloped southern Alaska for days, unloading extreme amounts of precipitation and overwhelming its infrastructure in some areas.
The deluge, intensified by climate change, has flooded communities south of Anchorage and transformed trickling waterways into raging rivers.
Excessive amounts of snow, measured in feet, have buried the high terrain, and the long-lasting storm won't fully relent until Wednesday.
The historic rainfall generated by the storm, includes one of the top four heaviest two-day amounts ever observed in the state, nearly 20 inches.
The rain keep coming at Portage Glacier Visitor Center, east of Girdwood. This is an immense of rain at sea level in less than three days from a non-tropical system. #akwx @Climatologist49 @EmilySchwing @TimLydonAK pic.twitter.com/svx53bmf6b
— Rick Thoman (@AlaskaWx) November 1, 2021