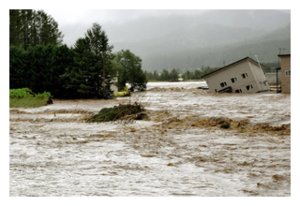 Tokyo—At least 11 people were found dead in northern Japan on Wednesday after Typhoon Lionrock battered the region with torrential rain, triggering widespread flooding.
National broadcaster NHK said police found the bodies of nine people at a home for the elderly that suffered flooding. The home is in the northern prefecture of Iwate, which took a direct hit from Lionrock. Separately, the bodies of an elderly man and an elderly woman were also discovered in Iwate, NHK said.
Rivers in parts of Iwate and the northern island of Hokkaido flooded, inundating residential areas and blocking roads. Television footage showed cars and homes submerged in muddy waters.
Japanese media reported that hundreds of residents in Iwate and Hokkaido were stranded, while several bridges were destroyed or swept away by floods.
Lionrock
crossed northern Japan during Tuesday night
, becoming the fourth typhoon this season to make landfall in Japan and the first to hit the northeast from the Pacific Ocean since records began in 1951, according to the Japan Meteorological Agency.
Unusual weather patterns led Lionrock to take a slow and wandering path through the Pacific. It started off Japan's eastern coast and initially headed south before making a U-turn to the north and then veering northwest and making landfall.