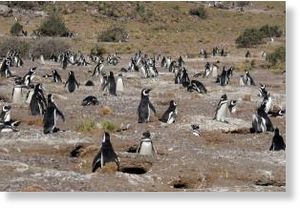 The Bronx Zoo-based Wildlife Conservation Society has just announced that its efforts to protect a wildlife-rich coastal region in South America have paid off in the form of a new coastal marine park recently signed into law by the Government of Argentina.
The park, which became official in early December protects half a million penguins along with several species of rare seabirds and the region's only population of South American fur seals. It is the first protected area in Argentina specifically designed to safeguard not only onshore breeding colonies but also areas of ocean where wildlife feed at sea.
The park's creation represents a joint effort by the National Parks Service of Argentina, Government of Chubut, Wildlife Conservation Society and its local partner Fundación Patagonia Natural with support from the United Nations Development Programme and the Global Environment Facility.