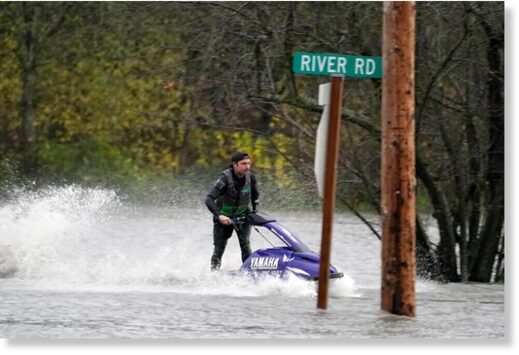 As if last
week's wild weather
wasn't enough, days of nearly ceaseless heavy rain and high winds prompted extensive flooding and mudslides Monday, forcing evacuations, school and road closures and a
state of emergency declared in 14 Western Washington counties.
The weekend's heavy rains stemmed from the Pineapple Express, also known as an atmospheric river. The National Weather Service issued a flood watch for portions of northwest and west-central Washington, including King, Pierce and Snohomish counties.
NWS issued a wind advisory warning of southwest winds between 15 and 30 mph with gusts up to around 40 mph in Seattle, Bremerton, Tacoma and areas of the Hood Canal. The strongest winds, with gusts of up to 60 mph, were near the Strait of Juan de Fuca and the shorelines of Snohomish, Skagit and Whatcom counties thanks to a cold front passing through the region.
More than 158,000 customers were without power in Western Washington at one point Monday afternoon.