Canada has been blanketed in snow from coast to coast after severe winter storms hit transport and left tens of thousands of homes without electricity.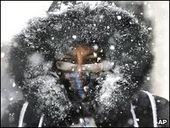 Strong winds and snowfall have hampered relief efforts, with meteorologists forecasting more bad weather to come.
"It's a widespread and severe winter storm and it's not over yet, with these high winds expected to continue for some time," a Nova Scotia Power spokeswoman told the Canadian Press news agency.