A California blaze burning since early July grew to be the second-largest state wildfire in modern history on Tuesday, officials said as firefighters partly blocked it by a firebreak.
Even as crews made gains in the Santa Barbara County backcountry, others battled a new blaze in canyon lands east of Los Angeles and another in mountains outside Palm Springs.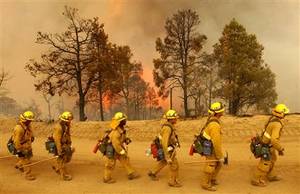 ©Rob Varela / www.venturacountystar.com
A Ventura County fire crew backs down a bit as flames from the Zaca fire approach a fire break north of Ojai, Calif., on Monday.