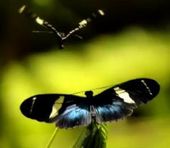 New tires allow race cars to take tight turns at high speeds. Hind wings give moths and butterflies similar advantages: They are not necessary for basic flight but help these creatures take tight turns to evade predators.
"To escape a predator, you don't have to be fast, you just have to be more erratic," said Tom Eisner, a world authority on animal behavior, ecology and evolution and the Jacob Gould Schurman Professor Emeritus of Chemical Ecology at Cornell. Eisner is co-author of a study on butterfly wings recently published in the
Proceedings of the National Academy of Sciences
(105: 43).