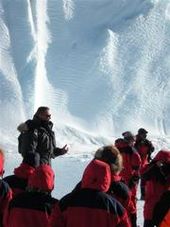 Antarctic glaciers are melting faster across a much wider area than previously thought, scientists said Wednesday - a development that could lead to an unprecedented rise in sea levels.
A report by thousands of scientists for the 2007-2008 International Polar Year concluded that the western part of the continent is warming up, not just the Antarctic Peninsula.
Previously most of the warming was thought to occur on the narrow stretch pointing toward South America, said Colin Summerhayes, executive director of the Britain-based Scientific Committee on Antarctic Research and a member of International Polar Year's steering committee.