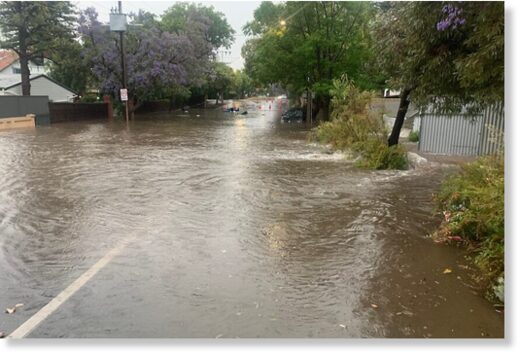 Wild storms have downed trees, flooded streets, damaged some homes and left thousands of others without power across Adelaide.
An inflatable whale was also swept down the River Torrens and other local Christmas decorations were plunged underwater, after metropolitan areas around the Adelaide Hills were hit with significant rainfall since Monday morning.
The Bureau of Meteorology's Jenny Horvat said the city had recorded above 50mm in parts, with Scotch College, south of the city, receiving 75mm of rain.
"[It is] quite a lot of rainfall in a short period of time," Horvat said. "So we have seen some local river rises, and some localised flash flooding ... and water heading straight down into the [River] Torrens."
"It is not one of those things happening every second day in November, but it can happen."