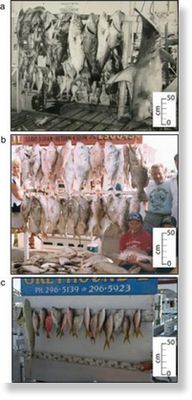 A unique study by a scientist at Scripps Institution of Oceanography at UC San Diego has provided fresh evidence of fishing's impact on marine ecosystems. Scripps Oceanography graduate student researcher Loren McClenachan accessed archival photographs spanning more than five decades to analyze and calculate a drastic decline of so-called "trophy fish" caught around coral reefs surrounding Key West, Florida.
In a paper published online in January and printed in an upcoming issue of the journal
Conservation Biology
, McClenachan describes a stark 88 percent decline in the estimated weight of large predatory fish imaged in black-and-white 1950s sport fishing photos compared to the relatively diminutive catches photographed in modern pictures. In a companion paper being published in the
Endangered Species Research
journal, McClenachan employs similar methods to document the decline of the globally endangered goliath grouper fish.