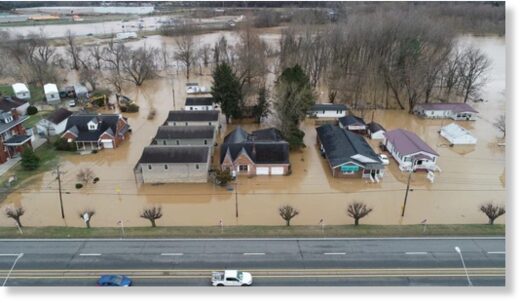 At least 2 people have died after heavy rain caused flooding in several southern states in the USA from 16 February 2023. The governor of West Virginia declared a State of Emergency. Roads and homes were flooded in areas of Tennessee, Alabama and Kentucky.
West Virginia
West Virginia Governor declared a State of Emergency for all of West Virginia's 55 counties due to impacts from heavy rainfall and thunderstorms on 16 February.
The National Weather Service at Charleston, WV, said, "Multiple rounds of moderate to heavy rain affected portions of the region on February 16-17, 2023. When all was said and done, rainfall totals of 2-4″ fell across much of the central/southern portion of the NWS Charleston (WV) forecast area, leading to numerous flooding issues across the region."
In 24 hours to 17 February, Culloden in Putnam County recorded 4.02 inches / 102.108 mm of rain; Hamlin in Lincoln County 4.04 inches / 102.61 mm; and Pinch in Kanawha County 4.08 inches / 103.63 mm.