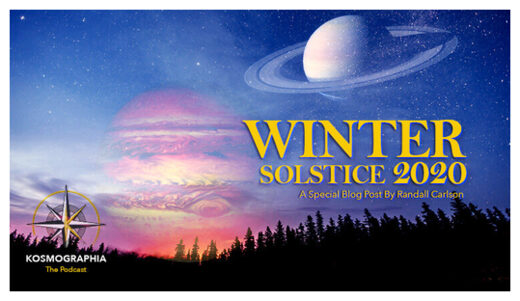 Winter Solstice
, the longest and darkest night of the year (in the northern hemisphere) will present to astronomical enthusiasts a once in a lifetime celestial event. It has been 794 years (1226 A.D.) since Jupiter and Saturn have aligned so closely that to the naked eye observer they appear as one object ‒ only the Moon will be brighter.
The overtaking of the slower planet Saturn by the more rapidly orbiting Jupiter takes place every twenty years. Due to its much greater distance from the Sun than Jupiter, Saturn's orbital period is right at 29.457 Earth years while Jupiter's is 11.86 Earth years. This overtaking is called a planetary conjunction. The apparent close association between two planets in conjunction, in this case Jupiter and Saturn, is due to the fact that the Earth, Jupiter and Saturn all lie in a straight line, more or less, and in this particular conjunction the alignment is very close, lying only 6 arc minutes, or one tenth of one degree apart at their closest passage.
Here is a way to think about the phenomenon: Assume Jupiter is conjunct Saturn. After 11.86 Earth years Jupiter has revolved around the Sun and returns more or less to the same position in the sky. However, Saturn, even though considerably slower in its orbit, has moved on ahead, enough, in fact, that it takes Jupiter about another 8 years to catch up. This means that there is a regular progression of Jupiter/Saturn conjunctions around the Zodiac. The last Jupiter/Saturn conjunction occurred over May 28-29 in the year 2000 against the backdrop of the star constellation Taurus. Prior to that event there was a triple conjunction in 1980 in the constellation of Libra that lasted from late December to early August in the constellation Virgo.
This year the conjunction is taking place between the constellations of Capricorn and Sagittarius, as seen in the following graphic captured from Stellarium.
The fact that this conjunction is taking place on the Winter Solstice is a remarkable coincidence
.