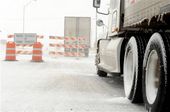 Dallas - A major spring blizzard plodding eastward over the Southern Plains shut down major highways and paralyzed the region as residents braced Friday for up to a foot of snow, freezing 45 mph winds and massive snowdrifts.
Schools and government offices were closed and hundreds of travelers were stranded by the storm, which left some areas in a coat of ice. The snowfall was expected to be unprecedented for this time of year in Oklahoma, and the National Guard was called out in the Texas Panhandle, where snowdrifts as high as 11 feet were predicted before the storm moves on Saturday.
"It's blowing furiously," said Jerry Billington of Faith City Ministries in downtown Amarillo, which was under whiteout conditions. The 200-bed shelter was one of several setting up extra beds and encouraging homeless people to come in off the street.