Earth Changes
EXTREME FLOODING
YouTube
Mon, 03 May 2021 11:20 UTC
South Iran hit by flash floods and heavy rain 3.5.2021 [EXTREME FLOODING]


---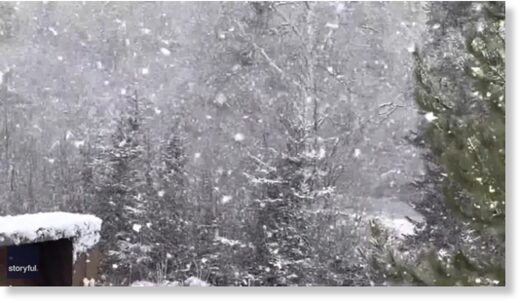 Snow flurries swept across north and west Newfoundland and Labrador, Canada, on May 3.
Andre Arani recorded this footage of the heavy snowfall seen south of Gros Morne National Park
.
The footage shows a squirrel having a meal, seemingly unbothered by the large snowflakes accumulating on its fur, and other adorable critters. Arani told Storyful this video was recorded after a "long stretch of mild conditions."
NTV news meteorologist Eddie Sheerr
reported that the area will see "periods of light snow and flurries," and said there should be some sunny breaks.
Credit: @earthspace101 via Storyful
---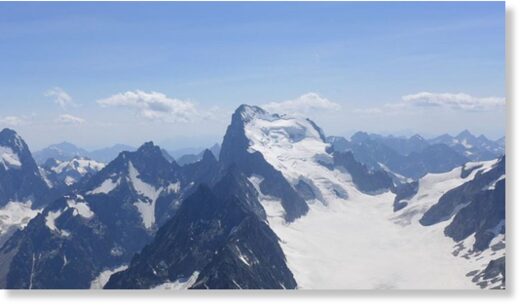 Three men and two women died this Monday in two fatal accidents due to snow avalanches that occurred in different areas of the French Alps, according to local media.
Three skiers died in the mountainous massif of Ecrins (Hautes Alpes), when fell from a height of 400 meters due to an avalanche produced at 3,765 meters of altitude, detailed the French newspaper Le Dauphiné Libéré.
After the warning of two climbers, a platoon of the Briancon Gendarmerie went to the scene, where they discovered the partially lifeless bodies of the three climbers. buried by snow.
On the same morning, a group of four climbers were victims of another accident due to a snowfall in the valley of L'Oisans, also located in the Alps and about 70 kilometers from the accident in Ecrins.
---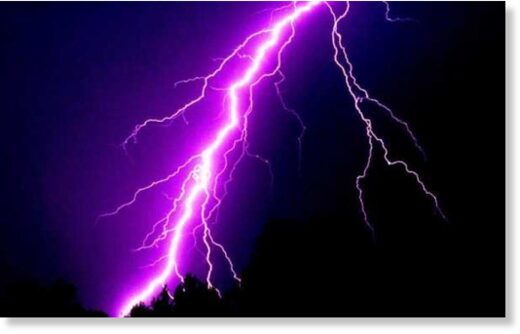 Herdsmen on Sunday evening of May 2, ran away from Urhodo-Ovu community in Ethiope-East Local Government Area of Delta State as thunder strike killed 12 of their cows.
The herdsmen and the cows were in their settlement when the incident occurred minutes after the heavy downpour,
DAILY POST
gathered.
Indigenes and residents of the community especially farmers were, however, happy over the incident.
At the time of filing this report, the 12 dead cows were still lying fallow on the ground.
The incident caused serious tension amongst the herdsmen as they quickly moved their belongings and ran away from the community for fear of being struck dead by the same thunder.
---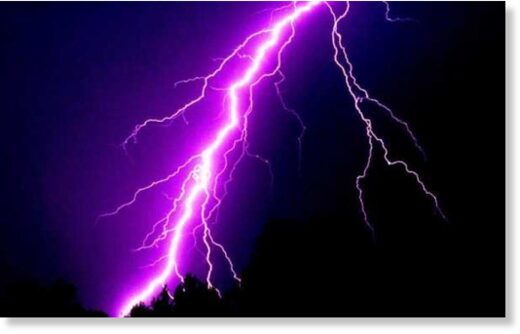 A bike-borne man and his nephew are among 10 people killed due to lightning-related incidents in different parts of Marathwada in the 24-hour period ending on Monday morning.
As per the official data, Parbhani district reported three such deaths, followed by two deaths each in Aurangabad and Osmanabad districts, and one each in Hingoli, Jalna and Beed districts.
Moreover,19 heads of cattle were also killed in lightning strikes at various places in the past few days.
Sunil Shinde (39) and his nephew Sunil Trigote (38), both residents of Chikalthana, were struck by lightning while they were travelling on a two-wheeler
in the Jaipur-Shivar area of Aurangabad district.
---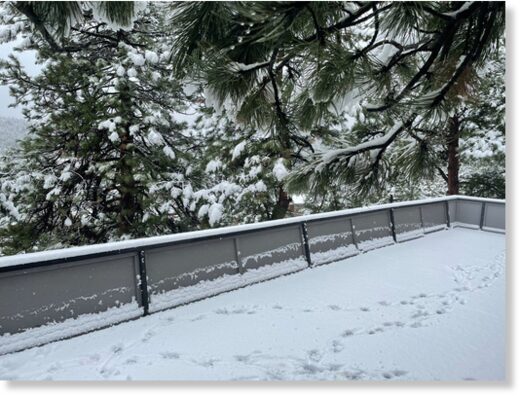 You've heard the old saying that April showers bring May flowers, right? That is true to an extent but May also brings plenty of snow to Colorado, especially in the higher elevations outside of Denver.
Snow started falling late Sunday in the mountains west of Denver and became more widespread overnight as colder air filtered into the region. That lowered the snow level to just above 6,000 feet.
The snow was heavy and wet due to air temperatures hanging around the freezing mark. Thankfully most roads were just wet or a little slushy in the foothills
, but in elevations above 9,000 feet snowpacked roads have been reported.
---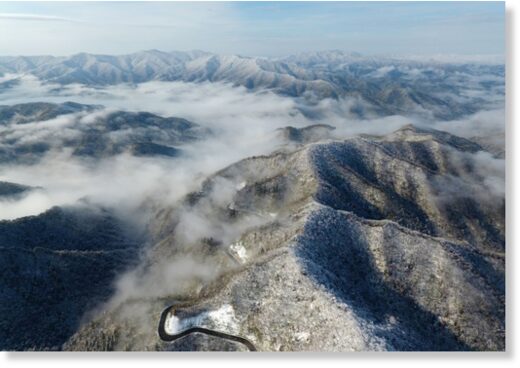 Unseasonal snow fell over parts of Gangwon Province over the weekend, an unlikely event for May, when early summer weather is typically seen across the country. It is the first time in 22 years that it has snowed in Korea in the month of May.
The Korea Meteorological Administration said Sunday that up to 18.5 centimeters of snow blanketed Gangwon Province from Saturday evening to Sunday morning
. An influx of strong wind from the east concentrated a pack of rain clouds in mountainous regions within the province, the weather agency said.
The national weather agency had issued a heavy snow alert for mountainous regions within Gangwon Province as of 9:10 p.m. Saturday.
A snow alert is issued when more than 5 centimeters of snow is forecast for a region in the coming 24 hours.
---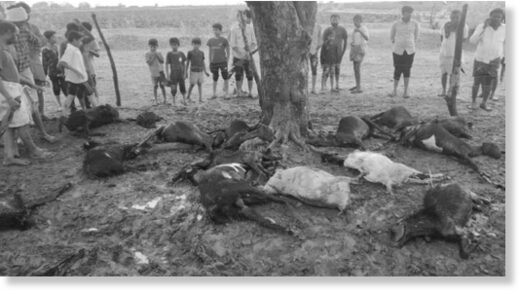 As many as 24 goats were killed in a thunderbolt strike when they were taking shelter under a tree at Suryanagar in Boath mandal centre on Sunday.
Locals said that the goats belonging to eight persons died after being struck by lightning when they were taking rest under a tamarind tree on the outskirts of Boath mandal headquarters,
which registered a hailstorm and unseasonal rains for an hour.
The owners requested the authorities concerned to sanction compensation.
---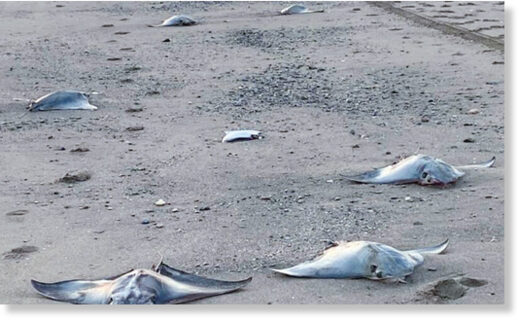 Numerous stingrays and mackerels were found dead by morning walkers on Monday.
Out for an early morning walk, Maryam Khalfan was in for a shock as she and her family kept coming across stingrays and another fish one after the other.
"Interesting was the fact that they were far away from the water, so maybe it happened during the high tide," said Maryam and added, "The more I walked, the more fish I saw."
The majority of the fish were spotted opposite Masjid Fatma on Al Hail beach.
---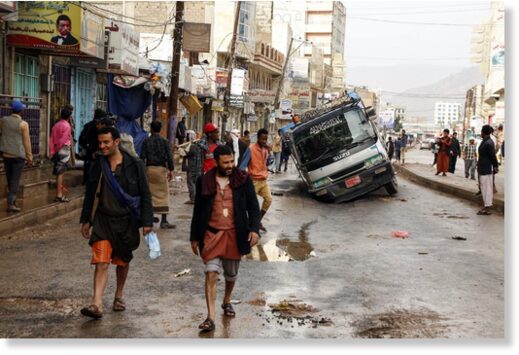 Floods swept through parts of Yemen amid heavy seasonal rains, leaving at least 13 people dead, including two children, security officials said Saturday.
Fatalities were reported in the provinces of Sanaa, Ibb, Shabwa and Hodeida, where it began raining late last month, the officials said. They spoke on condition of anonymity because they were not authorized to brief the media.
Heavy rains also pelted the provinces of Aden, Taiz and Hadramawt, where flooding damaged houses and vehicles, they said. Rescuers managed to save some residents trapped in their cars.
---