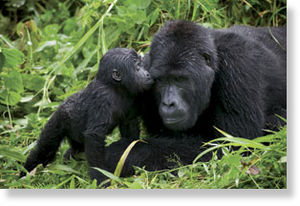 Mountain gorillas are in more trouble than we thought. Fewer of them are living in Uganda's Bwindi Impenetrable National Park (BINP) than previous estimates suggest. This is one of only two places worldwide where the gorillas survive in the wild.
Traditionally, conservationists estimate gorilla numbers by counting nests and examining the dung outside each one. "Each individual constructs a nest to sleep in, and before they leave in the morning, they defecate outside it," says Katerina Guschanski at the Max Planck Institute for Evolutionary Anthropology in Liepzig, Germany.
According to this method, there are 336 gorillas left in the 331-square-kilometre national park. But when Guschanski's team analysed DNA samples from each pile of dung using a new genetic counting method, the population estimate dropped by 10 per cent to 302. This suggests that some individuals had been counted twice using the old technique (
Biological Conservation
, DOI:
link
).