They have neither the soaring majesty nor the celebrity of the giant redwood, but in one respect the bristlecone pine is the undisputed king of trees: longevity.
Scattered on a remote mountainside of eastern California, these gnarled, twisted specimens are the oldest living organisms on Earth, the most senior among them some 4,700 years old.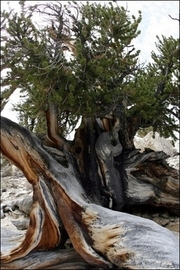 ©Signs of the Times
Ancient bristlecone pine trees are seen 13 September 2007 in the White Mountains of the Inyo National Forest near Bishop, California.