New Zealand's Mount Ruapehu erupted without warning Tuesday night, and at least two people were reported to be injured as lahars, or volcanic mudflows, swept down the mountain.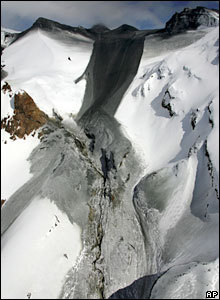 ©BBC
New Zealand's snow-capped Mount Ruapehu volcano erupts, spewing mud down its slopes as well as flying rock, which seriously injured one climber.
Civil defence officials ordered skiing areas evacuated and police closed roads in the area, including the North Island's main state highway and railway line, which run near the foot of the 2,797-metre high mountain.