Earth Changes
Dani Carlson & Brian Morrow
26KMPH
Tue, 21 Aug 2007 21:15 UTC
---
AFP
Thu, 23 Aug 2007 16:10 UTC
The remnants of the once mighty Hurricane Dean triggered deadly mudslides in Mexico Thursday as driving rain drenched a large part of the country, bringing the storm's death toll to at least 25.
And with river levels swelling rapidly and pounding rain hitting unstable mountain flanks, officials warned the crisis was far from over, even though Dean was downgraded to a tropical depression.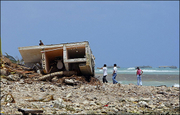 ©Omar Torres/AFP
People look at the remains of a destroyed house on Mahahual's beach, 80 km from Chetumal, after the passage of Hurricane Dean, 22 August 2007.
---
AP
Fri, 24 Aug 2007 16:04 UTC
The Windy City and northern Illinois were braced for a second punch Friday after a sudden storm with 70 mph wind slammed into the Chicago area Thursday evening, tearing down huge trees and damaging buildings.
In the suburbs Thursday, part of an industrial facility's roof collapsed, injuring 40 people, and a tornado struck western Michigan, downing about 700 trees in Montcalm County.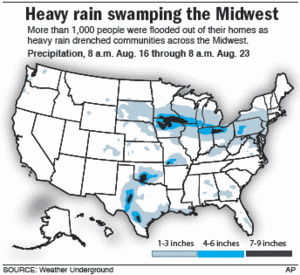 ©Weather Underground
Early Friday, another band of thunderstorms dumped more rain along a line from southern Iowa into Wisconsin.
---
David Morrison
NASA
Fri, 24 Aug 2007 08:20 UTC
Napier et al. assert that life originated in comets, not on planets like Earth. Kennett et al. believe that a large comet impacted North America just 13,000 years ago, causing a mass extinction. For a critique, read on.
Comment:
Seems the people at NASA still don't like cometary showers invading the inner solar system. Their "evidence" is the lack of evidence that would explain what their theories predict about comets, dismissing the compelling evidence "on the ground", albeit a lack of a crater, but that could be explained if the comet impacted the Laurentide ice sheet itself, despite their dismissals. It's as if the Inquisition demanded Galileo disprove the bible's contention that there are four corners of Earth before proposing the theory that the earth is, in fact, round. And what about
this crater
discussed
here
? And what about the
Carolina Bays
?
It is generally accepted today that the Tunguska event can only be attributed to a rare encounter with a "comet," or incoming body of such a nature that it left no stony or ferrous material, but simply vaporized and scorched the earth below in a rare display of high energy physics.

To explain the Bays, Kobres proposes a similar encounter, albeit of larger proportions and more accurately described as a "near miss." The "Kobres Event" proposes that a "comet," if you like, whipped past the Earth, exchanging enormous energy but not impacting directly to form a typical crater. It is demonstrable that such an encounter would show an intense flash of heat onto the ground below. This heat would have caused moister portions in the Pleistocene landscape to explode into steam, leaving the depressions in the ground that we know today as "Carolina Bays."
---
Hail pelted southeast South Dakota counties mostly along the Missouri River on Tuesday night.
Dante in eastern Charles Mix County received hail larger than 4.25 inches in diameter, said Greg Harmon, National Weather Service meterologist in Sioux Falls. The softball-plus size hail broke car windows in town, he said.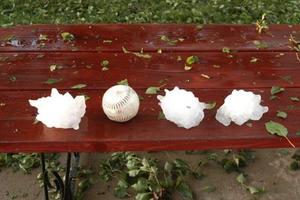 ©AP
---
Christine Ferretti, Oralandar Brand-Williams, Mark Hicks and Steve Pardo
Detroit News
Tue, 21 Aug 2007 13:15 UTC
A day of record rainfall Monday in Metro Detroit caused havoc for motorists and residents who endured power outages and severe flooding and turned some streets into muddy swamps that left 100 homes in Dearborn inundated.
Through 7 p.m. Monday 1.62 inches was reported at Detroit Metro Airport, passing the one-day record of 1.5 inches set in 1904, said National Weather Service meteorologist Greg Mann.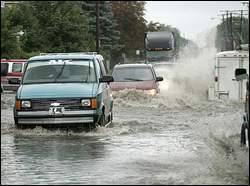 ©David Guralnick / The Detroit News
Motorists wade through a flooded Central Street in Detroit. Elsewhere, some passers-by stopped to help motorists in trouble, and some charged for their services.
---
CNN
Thu, 23 Aug 2007 02:02 UTC
Two storm systems colliding along the nation's midsection set off a spate of weather warnings from Colorado to Ohio as the deadly combination moved toward the Great Lakes on Wednesday.
Twenty-five people have been killed, mostly from flooding, according to media reports.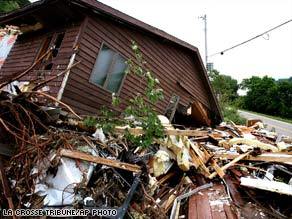 ©La Crosse Tribune/AP
The home of Lynn and Sharon Parding lies in ruin along Highway 26 north of Brownsville, Minnesota, Wednesday.
---
AFP
Wed, 22 Aug 2007 22:51 UTC
Sightings by marine scientists of dolphins in the north Atlantic's Bay of Biscay have dropped off by 80 percent compared to the same period in 2006, a wildlife conservation group said Wednesday.

The alarming drop in numbers of the Bay's three most common species of dolphin -- the striped, bottlenose and common -- can be attributed to one or both of two causes, Clive Martin, senior wildlife officer for the Biscay Dolphin Research Programme, told AFP.
---
Agi
Wed, 22 Aug 2007 13:42 UTC
Tens of fires have broken out from Messina to Palermo on the coast and hills. Airplanes cannot be used to put out the flames due to the strong winds, the helicopter 'Goliath' of the Civil Defence is being flown in from Reggio Calabria to Cefalu' (Palermo).
---
A day after tying the record for the coldest high temperature during the month of August ever in New York City, temperatures were expected only to warm up slightly, before finally climbing back to normal by the end of the week.

The city along with the rest of the tri-state region is feeling the chilly effect of a cold front sweeping through the region, accompanied by cool rain showers.

Tuesday's high temperature in Central Park was just 59 degrees. The normal high for Tuesday was 82 degrees. The normal low was 67.
---