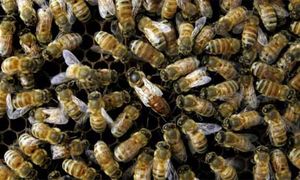 Millions of insects could be wiped out because thinly staffed inspectorate does not know where half the country's beekeepers are
A deadly Asian parasite that threatens to wipe out millions of bees across England and Wales has become endemic because Whitehall does not know the location of more than half the hives in the country, the National Audit Office reveals today.
The auditors estimate that at least 20,000 beekeepers are unregistered, which means they are never inspected and no action can be taken to eradicate the parasite before it destroys the bee colony, the report warns. The registered number of beekeepers stands at 17,000.
Failure to act could wipe out the country's £100m apple harvest and seriously damage pear, raspberry, strawberry and runner bean crops because they are highly dependent on bees for pollination.
The Department for Environment, Food and Rural Affairs describes the pest as varroa, "a serious Asian parasitic mite of honey bees".