Earth Changes
Mark Tingay
X
Thu, 23 Nov 2023 11:37 UTC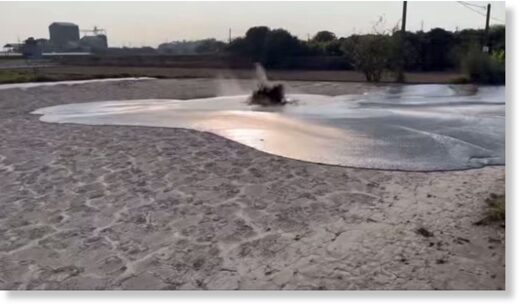 ---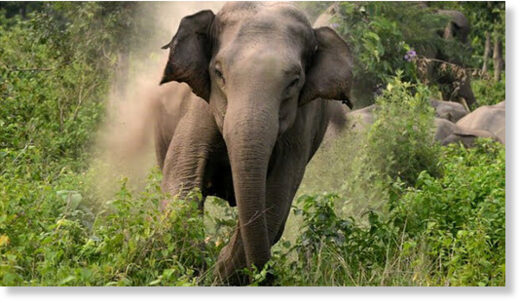 In a shocking incident, wild jumbos trampled to death four persons including two minor children, at Lalo Basti near Barmanthi under Bokajan police station in Karbi Anglong district on Thursday.
The deceased have been identified as Rebecca Kerketa (28), Kanya Tiria (50) and two kids.
All of them are from the same family. The incident took place in the Bormanthi village under East Forest range, Bokajan at around 3 pm on Thursday.
The family was returning home from their Citronella field when they met the herd of two elephants on their way. The herd charged them and trampled them immediately.
---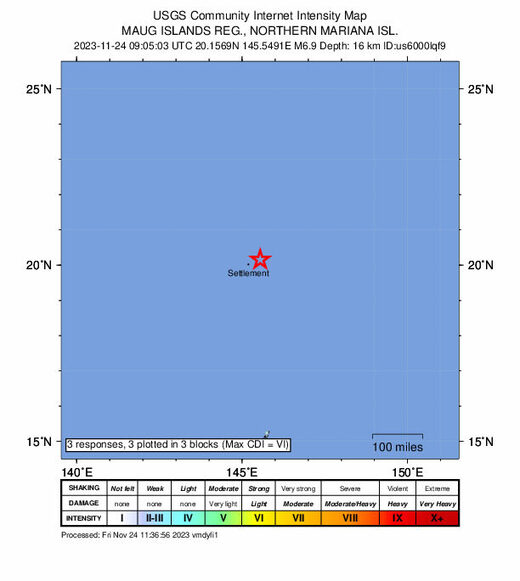 There is no threat of a tsunami in the Philippines after a magnitude 6.9 earthquake rocked the Mariana Islands in the northwestern part of Pacific Ocean, state seismologists said.
According to Philippine Institute of Volcanology and Seismology (Phivolcs), the earthquake in the Marianas had a depth of focus of 10 kilometers.
"No destructive tsunami threat exists based on available data," Phivolcs said.
"This is for information purposes only and there is no tsunami threat to the Philippines from this earthquake," it noted.
The agency added there are no recommended actions after the tremor.
---
Petir Garda Bhwana
en.tempo.co
Thu, 23 Nov 2023 14:43 UTC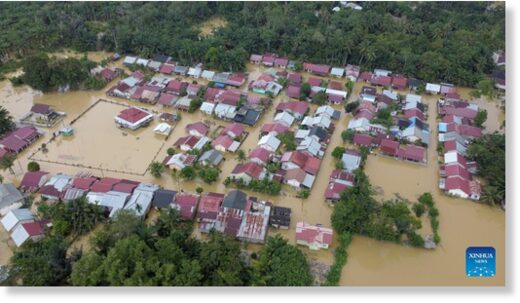 The Regional Disaster Mitigation Agency (BPBD) of Nagan Raya Regency, Aceh, recorded that 41 villages spread across nine sub-districts were flooded with water levels reaching more than one meter.
"The regional government along with the TNI (Indonesian Military), Polri (the National Police), Tagana (Disaster Response Team), and other related parties are still trying to help people affected by the natural disasters," the Nagan Raya BPBD chief Irfanda Rinadi said in Nagan Raya, on Thursday, Nov. 23.
He attributed the flooding to heavy rains that occurred since Monday, November 20, which caused the river to overflow into nearby residential areas and roads.
---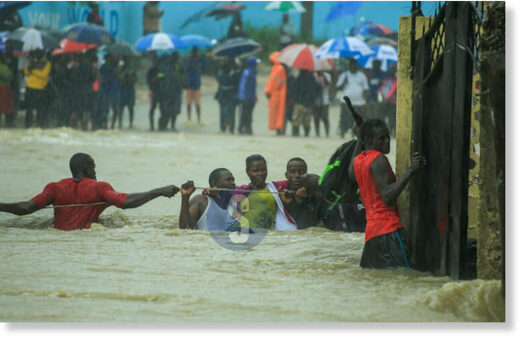 Heavy rains pounded the streets of Kenyan coastal city of Mombasa, with some passengers evacuated from a flooded bus by holding on to a rope amid chest-high water.
Others stood on top of the bus with umbrellas and raincoats as they waited for their turn to pull themselves to safety in Kisauni district, nearly 500 km (310 miles) from the capital Nairobi.
At least 46 people have died in flood-related incidents in Kenya since the rainy season began less than a month ago, according to aid group Save the Children. The toll is expected to rise.
Heavy rains followed by flash floods have submerged towns across East Africa, rendering hundreds of thousands of people homeless.
Comment:
Update November 23
The Standard
reports
:
The death toll from floods wreaking havoc in Coast has risen to 20 after six more people died in Kilifi county.

On Wednesday, Kilifi Governor Gideon Mung'aro said a total of nine people have died in the county, up from the three announced earlier. The deceased include six adults and two children in Malindi, Magarini, and Kilifi South.

In Majengo, Kilifi South, a child drowned after their house was marooned by the floods, while a widow and his grandchild were also found dead inside their house that was submerged.

Munga'ro, who issued a report on the impact of the ongoing El Nino rains in Kilifi, said that the body of another victim who drowned at River Sabaki is yet to be retrieved.

"The victim was swept away by floods in Burangi area while crossing the river last week. We have dispatched divers to search and retrieve the body," he said.

One person is missing in Malindi, while two others are recuperating in hospital after sustaining injuries from fallen trees during the heavy rains.

On Saturday, Coast Region Coordinator Rodha Onyancha said one person died in Mombasa, three in Kwale, three in Kilifi, and two in Tana River.

A boda boda rider drowned in Taita Taveta, and the bodies of two Kenya Revenu Authority (KRA) officers were retrieved from Ramisi River, taking the number of those who have perished from floods to 20.

Meanwhile, a war of words has erupted between Coast leaders and Deputy President Righathi Gachagua, who on Tuesday accused Mombasa Governor Abdulswamad Shariff Nassir of lamenting instead of helping the affected people.
Kenya - 46 dead and 58,000 displaced as floods worsen
---
BBC
Thu, 23 Nov 2023 13:04 UTC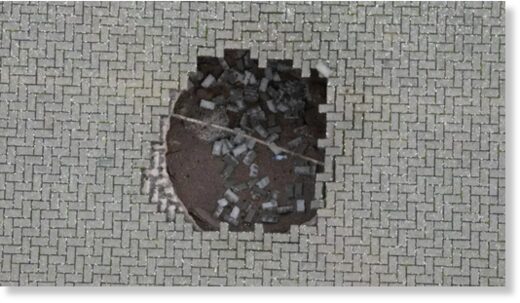 A large sinkhole that opened up in a car park near a primary school has suffered a further collapse.
The sinkhole appeared in East Park Farm Car Park in the village of Charvil, Berkshire, on Monday.
Charvil Parish Council said it was working to keep the area safe but confirmed more ground had given way.
Workers have inspected the hole, and the rest of the car park will now be scanned to make sure there is no more deterioration beneath the surface.
---
Nicola Daniels
IOL
Wed, 22 Nov 2023 12:42 UTC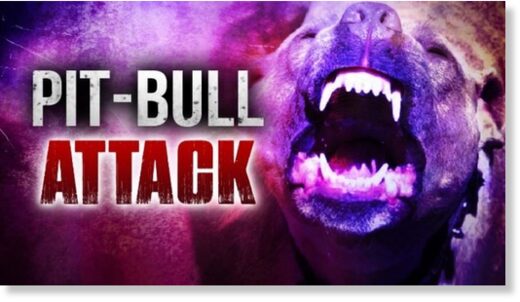 Police are investigating a case of culpable homicide after pit bulls attacked a 47-year-old man in Lutzville.
Johannes Lewis, affectionately known as "Bam", had a mental disability. His family said the brutal attack had left them in shock.
Lewis's brother-in-law, Gert Flink, said: "He always woke up early and took a walk around the house. On Sunday he woke up early and walked around the outside of the house as is his habit.
"Before they bit another two men, the one guy ran through the neighbour's backyard and into our property.
What we think happened is that the man tried to escape the dogs (but) when he came around the back of the yard they caught up and they attacked Bam in front of the door before he could get inside the house.
---
María Alejandra Trujillo
BNN
Wed, 22 Nov 2023 12:15 UTC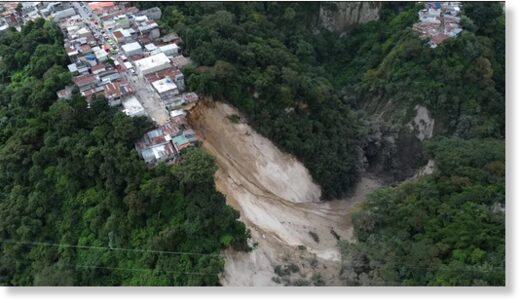 A devastating landslide in Guatemala's capital has led to the disappearance of at least six people, with thirty affected, sixty evacuated, and five homes severely damaged.
The incident occurred in the Las Calaveras sector, El Gallito colony, near the historic center.
The search for the missing has commenced, led by the Disaster Reduction Coordinator (Conred) and rescuers.
This type of tragedy is not alien to the region; another river overflow at the end of September resulted in ten deaths and disappearances in a nearby sector.
---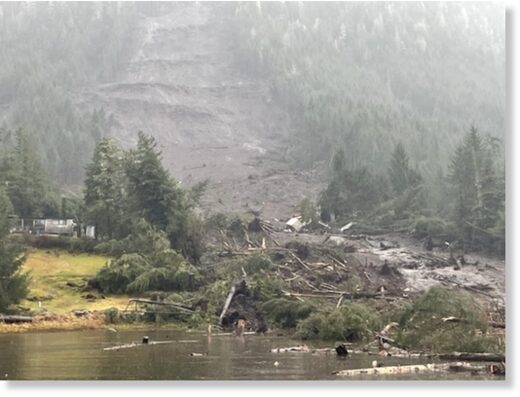 At least three people are dead as search and recovery crews continue to scour through debris from a landslide that impacted properties outside of Wrangell, Alaska, on Monday.
Alaska's Department of Public Safety reported the event occurred along the Zimovia Highway, about 11 miles south of the town of Wrangell in southeast Alaska.
The landslide occurred without warning, and first responders said the ground remains unstable, which could result in additional movement of terrain.
The slide is estimated to be 450 feet wide where it crossed the highway and the Coast Guard said as many as three other people are still missing from the event.
---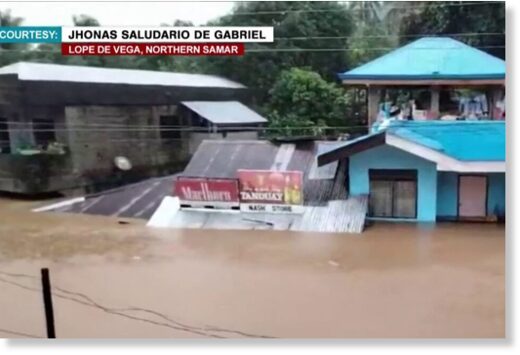 The provincial government has placed Nothern Samar under a state of calamity following the recommendation of the Provincial Disaster Risk Reduction and Management Council (PDRRMC) members.
Members of the Sangguniang Panlalawigan in a hybrid special session Tuesday afternoon passed and approved the recommendation of the PDRRMC after 18 towns were reportedly inundated.
The resolution states that "70 percent of the province population equivalent to 74,500 families or 370,000 individuals from 24 towns of the province was affected by the calamity."
---