Rising waters burst through an overtaxed levee on the Mississippi River Tuesday, sending gushing torrents into an Illinois town as the sodden US midwest reels from days of epic flooding.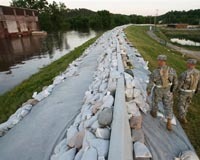 ©AFP
Missouri Army National Guard Staff Sergeant Matthew Crounse and Sergeant Darrell Rankin patrol the top of the levee next to the flooding Mississippi River June 17, 2008 in Clarksville, Missouri. Communities along the Mississippi River continue preparing for flooding as the river continues to rise.
The levee break left Highway 34 at Gulfport, on the Illinois side of the Mississippi River, under water prompting officials to close a bridge to the neighboring town of Burlington and creating havoc for commuters.
News reports said a flash flood warning was in effect Tuesday in Henderson County, Illinois as a result of surging waters from the levee break.