Earth Changes
START
YouTube
Tue, 26 Oct 2021 13:02 UTC
Incredible in the Saudi desert ! ⚠️ Severe rainstorm and waterfalls hits Asir.


---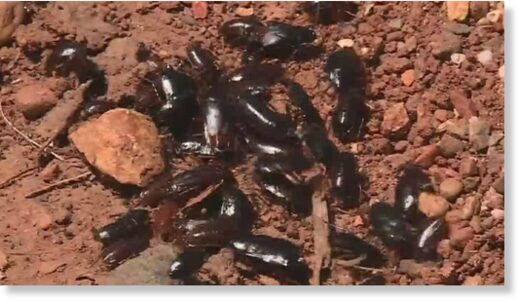 There is a creepy-crawly side effect of last weekend's storm. As Sacramento dries out, the cockroaches are coming out.
After record-breaking rain soaked the Sacramento region last weekend the last thing Bill Adams thought he would have to worry about is a cockroach conundrum.

"I have never seen nothing like that in my life," explained Bill Adams. "They are going everywhere, and they are so fast, it was like oh my goodness," he said.
Heavy rains brought close to a hundred creepy crawlers out of their hiding spaces at the Arcade Creek Kennel that Adams owns.
"It was hard to understand because I had never seen anything like that before. I wasn't sure what was going on or how to handle it," he said.
---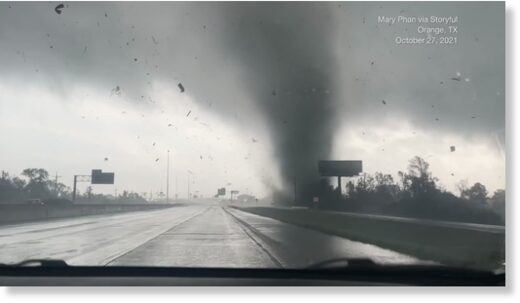 Severe weather moving through the area has left damage in the western portion of Louisiana.
As storms passed across the Texas-Louisiana state line earlier on Wednesday, a tornado was captured on video moving over I-10.
The video courtesy of Mary Phan shows traffic stopped on I-10 and a tornado moving across the road, tossing debris as it goes by.
Blue flashes seen in the video are transformers being blown out by the storm.
---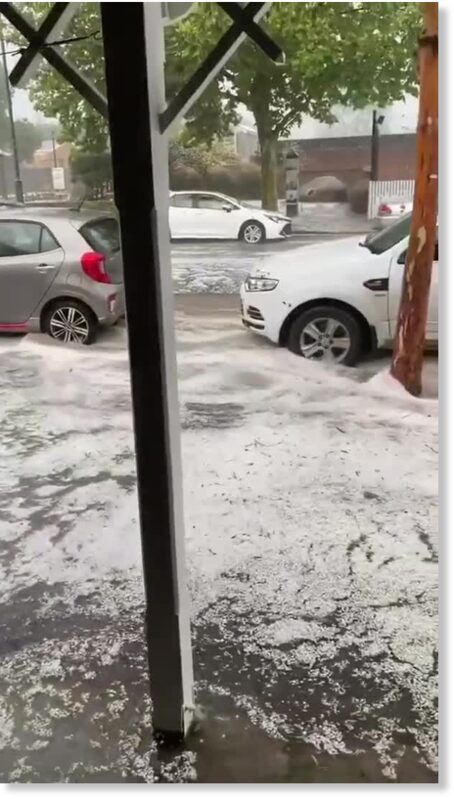 Intense thunderstorms lashed parts of South Australia on October 28, bringing severe hail and heavy rain.
This footage uploaded by Brothers At War Wines shows the town of Tanunda covered in hail, as rain washes the stones down Murray Street.
South Australia's Bureau of Meteorology issued a severe thunderstorm warning for the Adelaide area on Thursday morning, cautioning locals of large hail and damaging winds.
The severe thunderstorm warning was cancelled by the afternoon of October 28.
---
Severe World Weather
YouTube
Sat, 23 Oct 2021 13:28 UTC
---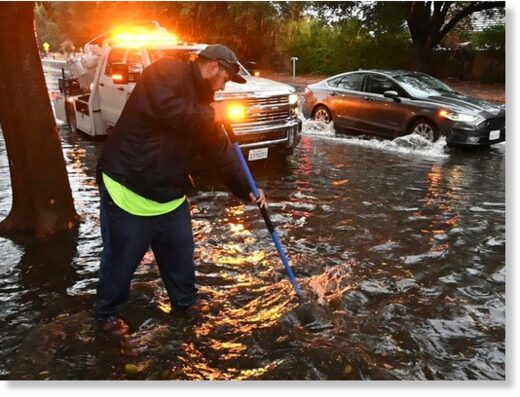 The storm that hit Southern California on Monday broke rainfall records as it swept down from the north and delivered much-needed moisture to areas parched by drought.
A low-pressure system hovering some 200 miles off the coast of Seattle sent a cold front hurtling all the way to the Southland, battering the area with significant rain for the first time in seven months.
The storm topped out at a 943-millibar pressure level, which is exceedingly low and signifies "a very intense storm," said David Sweet, a meteorologist with the National Weather Service in Oxnard.

"Seeing that in October is very impressive," he said.
Some Los Angeles County metro and coastal areas recorded more than an inch of rain. Just under half an inch fell over downtown L.A., according to the National Weather Service. Beverly Hills recorded 1.12 inches and Bel Air got 1 inch.
Several foothill communities saw even more moisture, with East Pasadena and nearby La Cañada-Flintridge both receiving 1.32 inches.
---
Harriet Alexander and Melissa Koenig
Daily Mail
Wed, 27 Oct 2021 12:01 UTC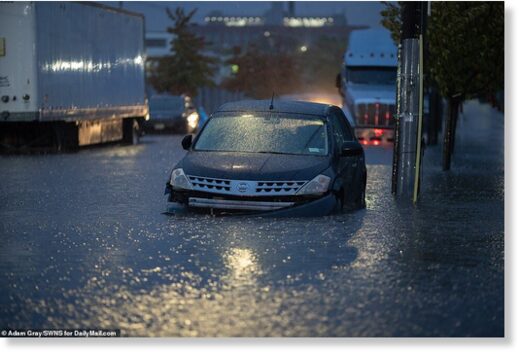 Heavy rain was pummeling the TriState area on Tuesday evening, with 65mph winds expected in Connecticut and Bridgeport airport breaking a rainfall record set in 1958.
On Long Island, the weather station in Ronkonkoma saw 3.33 inches of rain fall by Tuesday evening - smashing the previous daily record of 1.50 inches, set in 1981. In New York City, JFK airport also set a new record, with 2.05 inches of rain falling - the most since 2002.
Power company Con Edison, which supplies the region, said there were 'scattered outages' on Tuesday night, and urged people not to go near downed power lines.
As of Tuesday night,
Massachusetts was beginning to feel the force, with Cape Cod and Boston being hit. The state was reporting about 11,000 power outages, as the storm brought down trees along the coast.
---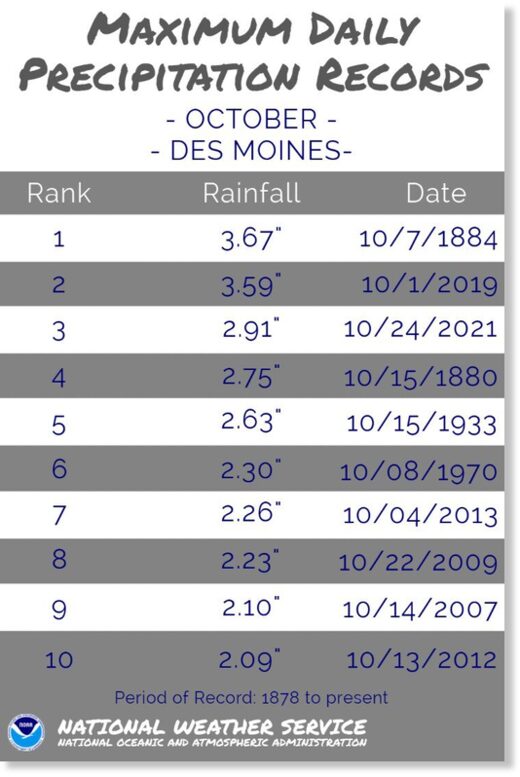 Des Moines shattered a 113-year-old rain record Sunday.
The Des Moines International Airport recorded 2.91 inches of rain Sunday, more than tripling the previous record for Oct. 24 of .96 inches set in 1908, according to the National Weather Service. It was also the third-highest daily rain total for an October day ever recorded in Des Moines.
Other records set included the 2.4 inches of rain that fell Sunday in Ottumwa, which had a previous record of 1.05 inches from 1967, and Waterloo's 1.41 inches, which broke 1908's record of 1.09 inches.
Through Oct. 19 many parts of Iowa including Polk County were still in moderate or severe droughts. Des Moines normally gets 2.78 inches of rain in October. Before Sunday's showers, Des Moines had gotten just 1.83 inches this month.
---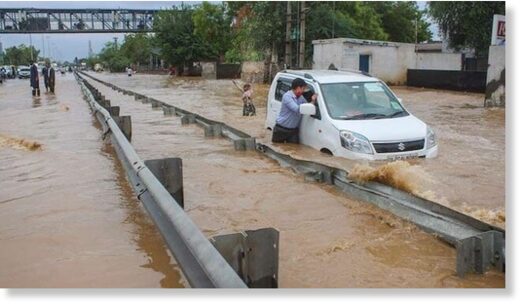 The amount of rainfall is second only to the 1933 record where the national capital experienced 1,534.3 mm of precipitation
The year 2021 has been a really
wet one for Delhi.
According to the data of the India Meteorological Department, the national capital — as of 25 October — has received 1,502.8 mm of rainfall. This makes it the second wettest year since 1933 where it had recorded 1,534.3 mm rainfall.
On an average, Delhi receives 779 mm of rainfall, which means that 2021's has brought almost double the rain that the city expects in a year.
Moreover, data reveals that this is only the fourth time — after 1933, 1964, and 1975 — that Delhi has received more than 1,200 mm of rainfall.
---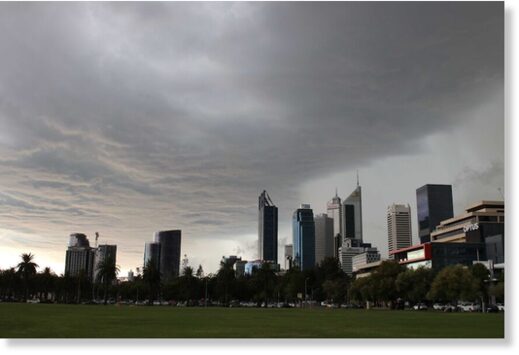 Perth has recorded its wettest October since records began,
after a low-pressure system delivered heavy downpours and hail to the south-west corner of the state last night.
According to the Bureau of Meteorology (BOM), which takes its official records from its Mt Lawley site, the previous record for the month was 96.4 millimetres, set in 1999.
The Perth site officially surpassed that figure during the night, with total rainfall for the month currently at 119 millimetres, and there is more to come.
BOM forecaster Pete Klegg said it was the wettest October in more than 50 years if taking previous measuring stations into consideration.
"It's the wettest October, if we're looking back at previous sites, since 1965," he said.
---