Flooding in New York's subway lines ground the city's morning commute to a halt on Wednesday, angering New Yorkers who are facing rail and utility fee hikes to support an aging infrastructure.
Every subway line into Manhattan was affected by flooding after a severe predawn storm sent roofs flying, toppled trees, submerged cars and inundated subway stations.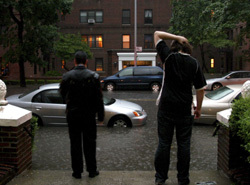 ©AP/Shahrzad Elghanayan
Residents look at flooding outside their building in the Queens borough of New York early Wednesday.