Miami - Tropical Storm Fay was blamed on Friday for six deaths in Florida as forecasters warned that its torrential rains threatened a large swath of the southeastern United States with flooding over the weekend.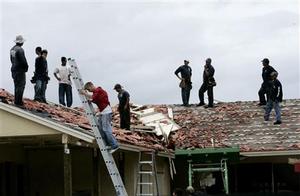 ©REUTERS/Joe Skipper
Workers clear debris from a damaged roof at the Palm Beach Equine Clinic after Tropical Storm Fay passed through Wellington, Florida August 19, 2008.
At 11 a.m. EDT the center of the storm, which had threatened to strengthen into a hurricane as it churned across the Caribbean, over the Florida Keys and on to the state's southwest coast, was about 40 miles northeast of Cedar Key in northwest Florida, U.S. forecasters said.
The sixth storm of what experts predict will be a busy Atlantic hurricane season, Fay was moving west at just 5 miles per hour (7 kph) after making its third Florida landfall on Thursday, the U.S. National Hurricane Center said.
The storm, with top sustained winds that had weakened to 45 mph (75 kph), was expected to move near or over the Florida Panhandle on Saturday and to dump heavy rain over northern Florida, southern Georgia and southeastern Alabama, the Miami-based hurricane center said.