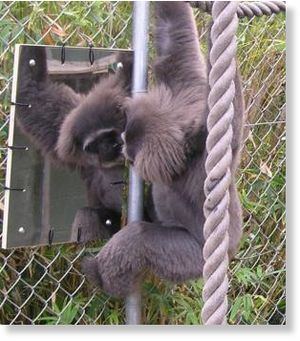 Never accuse a gibbon of vanity. The apes do not recognise their own face in a mirror, a study claims.
This stands in contrast to chimpanzees, orang-utans and perhaps gorillas, which all show a glimmer of recognition when confronted with their visage.
While primatologists may bicker over the significance of such observations, the lack of self-recognition in gibbons and other lesser apes indicates that this mental capacity emerged 14 to 18 million years ago when their evolutionary lineage split from great apes.
"We can reason about the mind of an ancestor without even laying eyes on the fossil," says Thomas Suddendorf, a psychologist at the University of Queensland, Australia, who led the study.