Winds approaching hurricane strength wreaked havoc on people and property in Labrador towns on Thursday.
Winds gusting up to 117 km/h on Thursday evening knocked down trees, fences and power lines in Happy Valley-Goose Bay.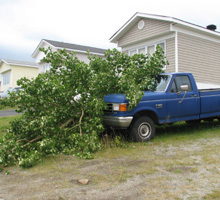 ©53 North
Residents in several Labrador communities woke up Friday to find many trees had been uprooted during heavy winds.