Firefighters got a gift of a mild, mostly windless night and a forecast for similar conditions Sunday as they attempted to protect thousands of Santa Barbara County homes from a huge wildfire, one of more than 300 taxing their energy and resources around the state.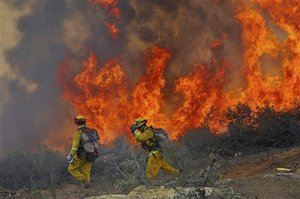 ©AP Photo/Phil Klein
Firefighters watch as a brush fire burns out of control in the Santa Ynez Mountains near Goleta, Calif., on Saturday July 5, 2008. A slew of wildfires, most ignited by lightning two weeks ago, have burned more than 800 square miles of land throughout California. The blazes have destroyed at least 67 homes and other buildings and contributed to the death of a firefighter who suffered a heart attack while digging fire lines.