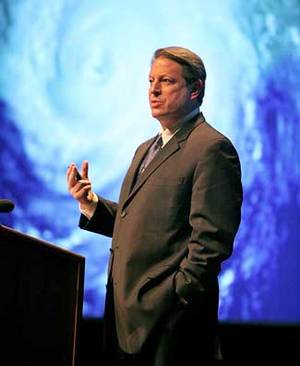 ©n/a
Al Gore's film An Inconvenient Truth does indeed have some correct facts, but he says "sometimes you have to exaggerate to send the message to people". So, how are we supposed to know fact from fiction in the global warming debate?
It's easy to see why Al gore's movie should not be shown in schools. An Inconvenient Truth is a political commercial that misrepresents a whole area of science. He admittedly uses scare tactics to get people to listen then shows them a professional slide show that blames every thing bad on so called man made global warming.

Al did not make and publicize this movie because he cares; something obvious when you consider his own lifestyle. He did not make this movie to run for president. This movie has grossed over 60 million dollars to date and it hasn't even made it to cable. Al charges over $100,000 per slide show. But the real money that Al will make is through his new company, Generation Investment Management, a company that seeks to establish the rules and licensing for the new carbon-trading scheme. We have all heard of politicians who lie for money and power; it looks as if Al did not retire after all.
Facts and Fictions of Al Gore's "An Inconvenient Truth"
by Kristen Byrnes
Ponder the Maunder
is an extra credit assignment for Honors Earth Science, Portland High School, by Kristen Byrnes of Portland Maine.
This report is a comprehensive look at the global warming issue without financial or political bias. It uses the most updated information provided by scientists and researchers and interjects common sense, an important component missing from the global warming debate.
As will be revealed post haste, this newest - and likely youngest - member of the growing list of folks skeptical about man's role in climate change actually walks the walk better than she talks the talk.
Yet, despite her youth and precocious scientific acumen, it seems quite unlikely that she'll be sitting down with Matt Lauer or Diane Sawyer any time soon to discuss her research concerning one of the most popular subjects on the media's front-burner. Why?
Because a prediction that she made last month concerning Australia's drought has marvelously borne fruit making the scientists employed by the United Nations' Intergovernmental Panel on Climate Change look a bit foolish.