The songbird has a friend in the beaver. According to a study by the Wildlife Conservation Society (WCS), the busy beaver's signature dams provide critical habitat for a variety of migratory songbirds, particularly in the semi-arid interior of the Western U.S.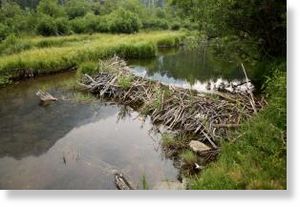 The study, which appears in the October 2008 issue of the journal
Western North American Naturalist
, says that through dam building, beavers create ponds and stimulate growth of diverse streamside vegetation critical for birds, including many migratory songbirds in decline. The study found that the more dams beavers build, the more abundant and diverse local songbirds become.
"We found that increasing density of beaver dams was associated with a diverse and abundant bird community and the wetland and streamside habitat these species depend on," said Hilary Cooke, the study's lead author who is now finishing her dissertation at the University of Alberta in Edmonton. "This habitat is critical to birds in semi-arid regions yet has been severely degraded or lost through much of the West. Our results suggest that management of beavers may be an important tool for restoring habitat and reversing bird declines."