Burmese pythons - an invasive species in south Florida - could find comfortable climatic conditions in roughly a third of the United States according to new "climate maps" developed by the U.S. Geological Survey (USGS). Although other factors such as type of food available and suitable shelter also play a role, Burmese pythons and other giant constrictor snakes have shown themselves to be highly adaptable to new environments.
The just-released USGS maps can help natural resource agencies manage and possibly control the spread of non-native giant constrictor snakes, such as the Burmese python, now spreading from Everglades National Park in Florida. These "climate match" maps show where climate in the U.S. is similar to places in which Burmese pythons live naturally (from Pakistan to Indonesia).
A look at the map shows why biologists are concerned.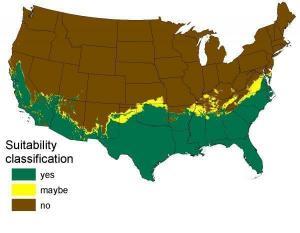 ©USGS
Areas of the continental United States with current climate matching that of the pythons' native range in Asia. By 2100 the yellow "maybe" area is expected to extend north substantially, due to projected climate change.