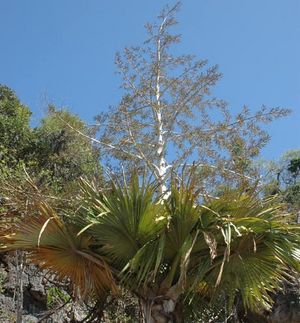 ©John Dransfield
This new species of palm, found recently in northwestern Madagascar, goes out with a bang. Once fully grown, the giant Tahina spectabilis produces a vibrant display of flowers - an act that depletes its nutrients and sparks a slow death. The apparently rare palm lives in areas where habitat has already been degraded, making conservation a priority, scientists say.
A couple on a casual stroll in Madagascar recently discovered a new gigantic palm that flowers itself to death.
Taller than a six-story building, with a trunk 1.5 feet (0.5 meter) in diameter, it is the most massive palm discovered to date in Madagascar.