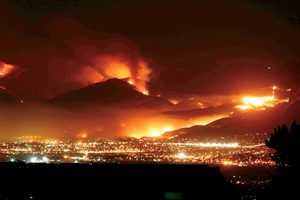 © Chris Doolittle
Northeastern San Bernardino, California, as the wildfires light up the night sky.
Last Thursday, in the late afternoon, I stared up at the blood red sun, brown and soot gray clouds enveloping it, and watched ash fall in flurries. I suddenly flashed on the rejiggered city limits sign in "High Plains Drifter." It read: "Welcome to Hell."
Hell had come to California, once again, and, once again, it was in my backyard.
Perhaps our Guvunator Arnold Schwarzenegger summed up the past few weeks the best over the weekend. "I've been driving up and down the state of California going to all the various different fires, and you can imagine, this state is very prepared for fire, but when you wake up one morning and have 500 fires across the state, it was a real shock to me...only to find the next morning there were 1,000 fires, and the next morning 1,400 fires, and then 1,700 fires igniting over 14 days."