Firefighters scrambled a helicopter to rescue people encircled by flames in southern Greece on Monday - one of dozens of fires that have torn through village and forest across the country, leaving blackened landscape in their wake.
The worst wildfires in living memory have killed 63 people, destroying everything in their path.
One fire broke out on the fringe of Athens Monday, but was quickly brought under control. Another scorched the woodland around the birthplace of the Olympics.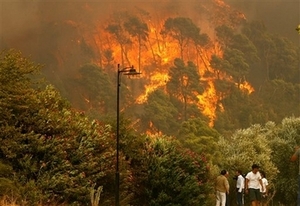 ©AP / Petros Giannakouris
Fire burns on the Hill of Kronos next to the site of ancient Olympia, birthplace of the Olympic Games, in southwestern Greece on Sunday, Aug. 26, 2007. A massive effort by firefighters, assisted by water-dropping aircraft and fire trucks, succeeded in keeping a raging blaze away from the 2,800-year-old site - the holiest sanctuary in ancient Greece. Three days of forest blazes throughout the country have left at least 57 people dead, authorities said Sunday.
The flames were driven back from the capital and Ancient Olympia, but a helicopter headed to the village of Frixa in the western Peloponnese to rescue people surrounded by fire, the fire department said.