It is common knowledge that the world's oceans and atmosphere are warming as humans release more and more carbon dioxide into the Earth's atmosphere. However, fewer people realize that the chemistry of the oceans is also changing - seawater is becoming more acidic as carbon dioxide from the atmosphere dissolves in the oceans.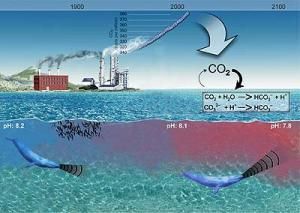 According to a paper to be published this week by marine chemists at the Monterey Bay Aquarium Research Institute, these changes in ocean temperature and chemistry will have an unexpected side effect - sounds will travel farther underwater.
Conservative projections by the Intergovernmental Panel on Climate Change (IPCC) suggest that the chemistry of seawater could change by 0.3 pH units by 2050 (see below for background information on pH and ocean acidification). In the October 1, 2008 issue of
Geophysical Research Letters
, Keith Hester and his coauthors calculate that this change in ocean acidity would allow sounds to travel up to 70 percent farther underwater. This will increase the amount of background noise in the oceans and could affect the behavior of marine mammals.