A new species of blind, subterranean, predatory ant discovered in the Amazon rainforest by University of Texas at Austin evolutionary biologist Christian Rabeling is likely a descendant of the very first ants to evolve.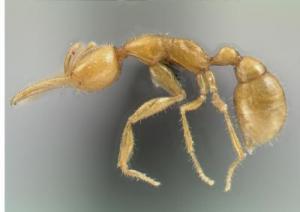 ©Christian Rabeling, the University of Texas at Austin
This new species of blind, subterranean, predatory ant, Martialis heureka, was discovered in the Amazon by Christian Rabeling at the University of Texas at Austin. It belongs to the first new subfamily of living ants discovered since 1923, and is a descendant of one of the first ant lineages to evolve over 120 million years ago.
The new ant is named Martialis heureka, which translates roughly to "ant from Mars," because the ant has a combination of characteristics never before recorded. It is adapted for dwelling in the soil, is two to three millimeters long, pale, and has no eyes and large mandibles, which Rabeling and colleagues suspect it uses to capture prey.
The ant also belongs to its own new subfamily, one of 21 subfamilies in ants. This is the first time that a new subfamily of ants with living species has been discovered since 1923 (other new subfamilies have been discovered from fossil ants).
Rabeling says his discovery will help biologists better understand the biodiversity and evolution of ants, which are abundant and ecologically important insects.