Thousands of Argentines cheered and threw snowballs in the streets of Buenos Aires on Monday as the capital's first major snowfall since 1918 spread a thin white mantle across the region.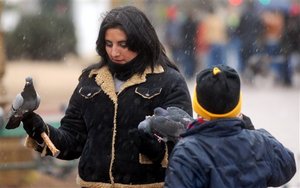 ©AP Photo/Daniel Luna
People hold pigeons in Plaza de Mayo as it sleets in Buenos Aires, Monday, July 9, 2007. Argentina is experiencing one of its coldest winters in decades.
Wet snow fell for hours in the Argentine capital, accumulating in a mushy but thin white layer late Monday, after freezing air from Antarctica collided with a moisture-laden low pressure system that blanketed higher elevations in western and central Argentina with snow.