The Antarctic deep sea gets colder, which might stimulate the circulation of the oceanic water masses. This is the first result of the Polarstern expedition of the Alfred Wegener Institute for Polar and Marine Research in the Helmholtz Association that has just ended in Punta Arenas/Chile. At the same time satellite images from the Antarctic summer have shown the largest sea-ice extent on record. In the coming years autonomous measuring buoys will be used to find out whether the cold Antarctic summer induces a new trend or was only a ,slip".
The Polarstern expedition ANT-XXIV/3 was dedicated to examining the oceanic circulation and the oceanic cycles of materials that depend on it. Core themes were the projects CASO (Climate of Antarctica and the Southern Ocean) and GEOTRACES, two of the main projects in the Antarctic in the International Polar Year 2007/08.
Under the direction of Dr. Eberhard Fahrbach, Oceanographer at the Alfred Wegener Institute, 58 scientists from ten countries were on board the research vessel Polarstern in the Southern Ocean from 6 February until 16 April, 2008. They studied ocean currents as well as the distribution of temperature, salt content and trace substances in Antarctic sea water. ,We want to investigate the role of the Southern Ocean for past, present and future climate," chief scientist Fahrbach said. The sinking water masses in the Southern Ocean are part of the overturning in this region and thus play a major role in global climate. ,While the last Arctic summer was the warmest on record, we had a cold summer with a sea-ice maximum in the Antarctic. The expedition shall form the basis for understanding the opposing developments in the Arctic and in the Antarctic," Fahrbach said.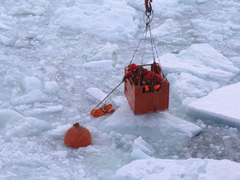 ©AWI
Recovery of mooring 207 in heavy sea ice.