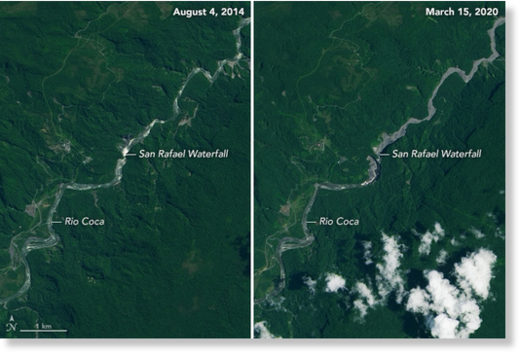 Surrounded by lush vegetation and rare butterflies, the San Rafael Waterfall was one of the most captivating landscapes in Ecuador. With water dropping 150 meters (490 feet), the river and falls cut through a thick patch of cloud forest at the intersection of the Andes Mountains and the Amazon Basin. As the country's tallest waterfall, it attracted tens of thousands of visitors per year.
But now, the cascade has disappeared. It stopped flowing on February 2, 2020.
The images above show the falls and the surrounding river basin while water still flowed on August 4, 2014 (left) and after it stopped on March 15, 2020 (right). These images were acquired by the Operational Land Imager (
OLI
) on Landsat 8. The image below shows a photograph of the falls on November 28, 2012.