A national shortage of grit is putting lives at risk on Britain's snow covered roads, the country' biggest motoring organisation warned yesterday.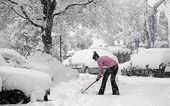 The AA said many roads were turning into "death traps" and warned that the country faced a dangerous "road safety crisis".
With weather forecasters predicting another five days of freezing temperatures and snow, the AA called on the Government to step in and ask European countries to provide emergency supplies of salt.
Around 40,000 tonnes are already on the way from Spain. Critics said the grit shortage had proved Britain was woefully unprepared for the extended cold snap.
The Daily Telegraph
disclosed two days ago that some councils would run out of salt by the weekend.
Several have now either run out or have such low stock levels that very few roads are being gritted. In some areas less than 20 per cent of roads have been treated.