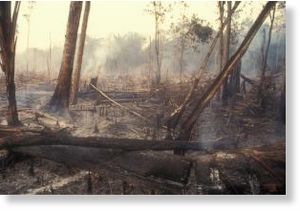 Deforestation in Brazil's Amazon forests has flipped from a decreasing to an increasing trend, according to new annual figures recently released by the country's space agency INPE.
Commenting on the figures, Brazilian environment minister Carlos Minc confirmed that the government will on Monday announce forest related carbon emission reduction targets, which will link halting deforestation to the national climate change campaign.
From August 2007 to July 2008, Brazil deforested 11,968 square kilometers of forests in the area designated as the Legal Amazon, a 3.8 per cent increase over the previous year and an unwelcome surprise following declines of 18 per cent over the previous period.