A tropical seabird has appeared in the UK for the first time after being blown thousands of miles off course from its home in the Caribbean.
Experts believe the male magnificent frigatebird was pushed towards Britain by disorientating hurricane activity.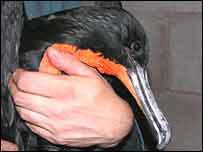 ©BBC News
The rare bird is now recovering at Chester Zoo.