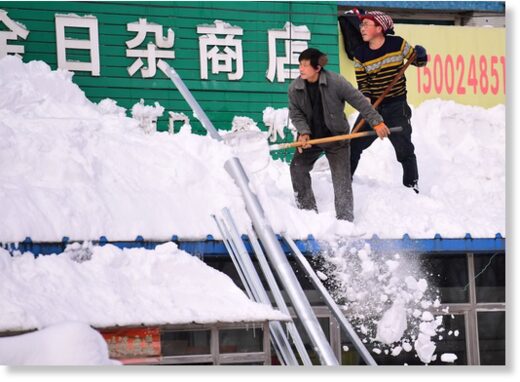 Snowstorms have wreaked havoc in northeast China in recent days,
with record snowfall in some parts snarling traffic, disrupting train services and raising concerns about power supply as temperatures plunged, state media reported on Wednesday.
Traffic in Liaoning province has been severely disrupted, with the majority of expressway toll stations shut as of Tuesday. Passenger stations were also closed, except those in the cities of Dalian and Dandong.
Since the arrival of a cold wave on Sunday,
temperatures in northeastern China had plunged by as much as 14 degrees Celsius in certain areas by Tuesday.
Meteorological departments in Liaoning and the province of Jilin have issued red alerts for snowstorms, the most severe in a four-tier colour-coded weather warning system.