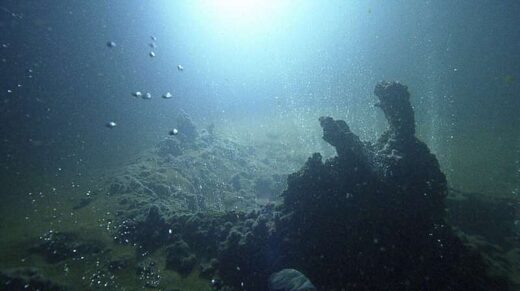 Using a novel imaging technique for volcanoes that produces high-resolution pictures of seismic wave properties, a new study reveals a large, previously undetected body of mobile magma underneath Kolumbo, an active submarine volcano near Santorini, Greece. The presence of the magma chamber increases the chances of a future eruption, prompting the researchers to recommend real-time hazard monitoring stations near other active submarine volcanoes to improve estimations of when an eruption might be likely to occur.
Nearly four hundred years ago, in 1650 C.E., Kolumbo breached the sea surface and erupted, killing 70 people in Santorini. This eruption, not to be confused with the catastrophic Thera (Santorini) volcanic eruption that occurred around 1600 B.C.E.
, was triggered by growing magma reservoirs beneath the surface of Kolumbo. Now researchers say the molten rock in the chamber is reaching a similar volume.