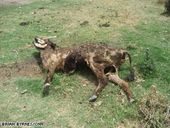 San Miguel Del Monte -- In a small farming town 105 kilometers (65 miles) southwest of Buenos Aires, farmers are struggling to nourish their crops and feed their animals. The worst drought in half a century has turned Argentina's once-fertile soil to dust and pushed the country into a state of emergency.
Cow carcasses litter the prairie fields and sun-scorched soy plants wither under the South American summer sun. Farmers are concerned about their livelihoods.
"I'm losing money. I can't afford to lose money all the time," said Juan Cahen D'Anvers, whose family has been farming in Argentina since the late 1700s. He owns 700 hectares (1,730 acres) in San Miguel del Monte, where he grows sunflowers and barley.
He says this year is one of the hardest he's ever had.
"Production is going to go down a minimum of 50 percent, maybe more. I don't know yet," he said.