South Texans eager to salvage what they can from waterlogged homes struck by Hurricane Dolly have another problem:
The floodwaters they're slogging through are laced with stinging fire ants, snakes and even deadly tarantulas.
"You don't want to wade in this water," state Health Services Commissioner David Lakey said during a visit to the Rio Grande Valley Friday. "You don't want to play in this water. You want to stay out of this water."
It was timely advice, but residents in many neighborhoods with waist-deep water had little choice as they sifted through the mess left by the Category 2 storm that hit the eastern Texas and Mexico coasts Wednesday. In eastern Hidalgo County, as much as 12 inches of rain fell in six hours, turning neighborhoods into coffee-colored lakes.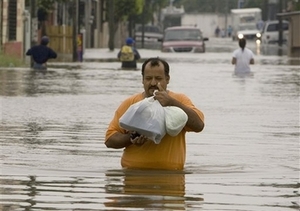 ©AP Photo/Eduardo Verdugo
A man wades through a flooded street after Hurricane Dolly hit the area in Matamoros, Mexico, Thursday, July 24, 2008. Officials said no deaths were reported in Mexico from Dolly, which struck land just north of the border in Texas Wednesday. It ripped off roofs, flooded roads and downed power lines, but the Rio Grande levees held strong.